Okuraga-hama Beach
Okuraga-hama is a beautiful beach, which is 4-km long and is located in Hyuga City in Miyazaki Prefecture. The beach is called the "origin of clamshell Go stones". Without this beautiful sand beach, we would never had a chance to develop in Japan our special technique to make Go stones from natural clamshells.
Today, Okuraga-hama has been designated as one of 100 most beautiful beaches of Japan. We hear the sound of rippling waves everyday on this beautiful beach, the so-called "last production site of clamshell Go stones in Japan".
The history of Go dates back to the ancient times in China. According to records, Chinese people started to play Go as early as in 1100 B.C. and Japanese people already enjoyed playing Go game around Taiho Era (701-703 A.D.).
In the late 17th century, Japanese people started to make Go stones from natural clamshells. Until then, people used natural black and white rocks.
In the late 19th century (middle of Meiji Era in Japan), a drug seller who was visiting Hyuga area from Toyama Pref. came across thick and beautiful Hyuga clamshells, brought them back, and informed the owner of a Go stone manufacture in Osaka.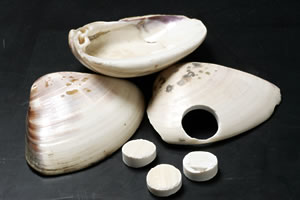 Hyuga clamshells were much thicker, more beautiful and had a smoother texture than Hitachi and Kuwana clamshells, that used to be the major raw materials used for making Japanese Go stones. In 1908, a Go stone craftsman returned to his home town Hyuga from Osaka and started producing Go stones using natural clamshells from that place.
After that, as most clamshells were depleted on all other beaches in Japan, other Go stone manufacturers closed down their business or stopped making Go stones. That made Hyuga the only Go stone production area in Japan. Today, as most clamshells are depleted and can no longer be found on Hyuga beach, Mexican clamshell has become a mainstream source of raw material.
Although there are several Go stone manufacturers in Hyuga City, all producers have been trying to develop their own brand name based on their own "manufacturing method", "standardized shape", and "sorting standard".
As previously explained, our "Hyuga-crafted (Tokusei) Clamshell" and "Carefully selected" Go stones are made from Mexican clamshells.
We also have a very limited stock of "Hyuga-collected (Tokusan) Clamshell Stones". They are made from Hyuga clamshells that were dug out and collected on Hyuga beach a long time ago. We labeled them as "Hyuga TOKUSAN (-collected)". Because of this, serious collectors call these truly rare stones "Legendary Go Stones".
Kuroki Goishiten Online Shop
Nachiguro Slate Stones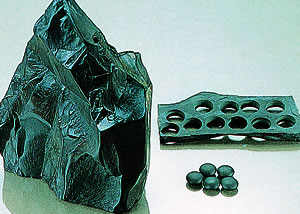 All clamshell stones are paired with black (slate) Go stones. Black Go stones are made from Nachiguro slate stones that are mined in the deep mountain area of Kumano, Mie Prefecture.
Nachiguro is used as a touch stone to measure the purity of gold.