All of our Go stones are sorted according to their shape, color, natural stripes, and presence of scratches. Shape is checked against our venerable Master Stones for comparison. Color is judged by their clear milky whiteness. Stripes should be as close to each other as possible.  We carefully check the presence of tiny scratches. Usually, 20% of Go stones are rejected during the first screening process.
Sorting Standard
Carefully Selected Snow Grade Stones
Snow Grade stones have the most beautiful and closest uniform clear stripes on their milky surface, which are specific to natural clamshell.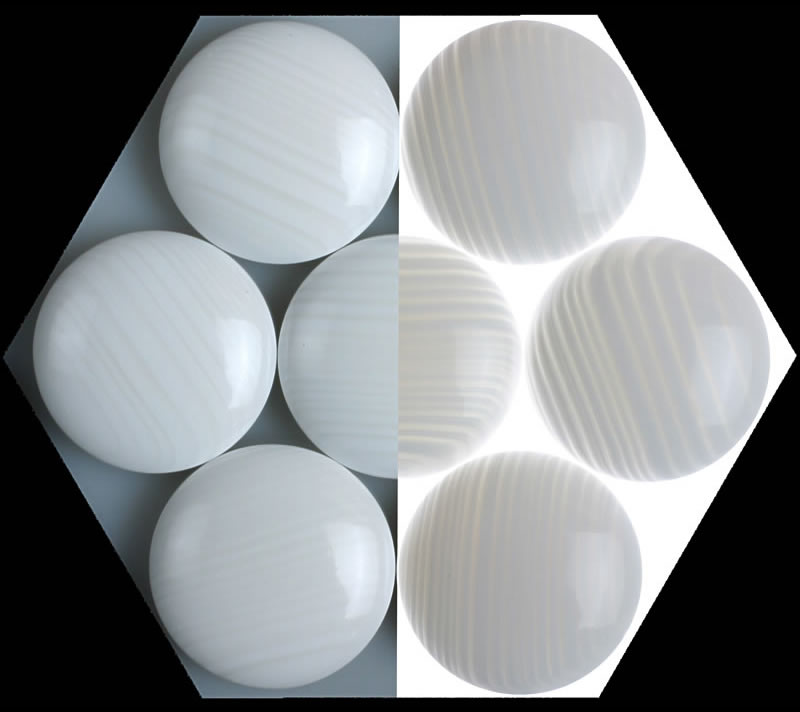 Very close stripe patterns can be seen, which is a very unique characteristic of the clamshell.
The specific features of Snow Grade Stones are white shine luster and clear fine elegant stripes. Their exquisite shape maximizes the beauty of stripe patterns, fits your fingers, is perfect for practical use, and at the same time very artistic, capturing the player's heart. Stones are well balanced with natural roundness and a beautiful stable edge.
(These stones amount to approx. 10% of total production.)
Carefully Selected Blossom Grade Stones
Blossom Grade stones have beautiful clear stripes on their milky surface, which are a little wider than those on Snow Grade stones.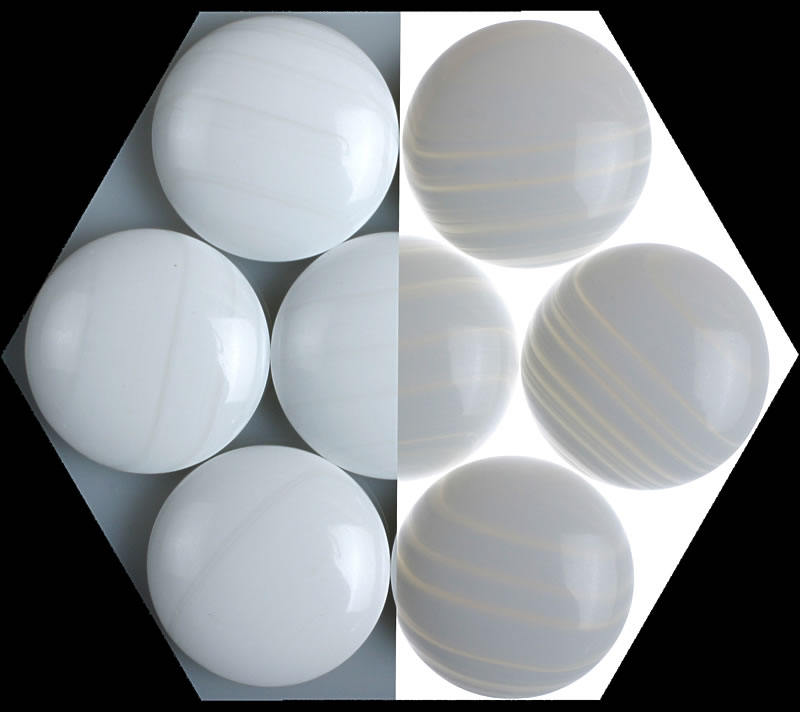 By combining two of our former grades (Moon Grade and Flower Grade), into a single "Blossom Grade", we raised successfully the quality of Blossom Grade. Customers will be able to see the quality difference more clearly than before. One of the features of Blossom Grade stones are wider stripes compared to Snow Grade. We aim not only at the stability of Go stones but also their natural roundness and smooth texture, which are very specific to Go stones made from natural clamshells  (70% of total production).
Kuroki Goishiten Online Shop
Commitment to a Perfect Shape
In order to maximize the beauty of natural stripes, we cut out the best part of the surface and shape its natural roundness so that both faces are totally even.
The final result is a surface texture which is totally smooth and possesses adequate stability. Players will be therefore able to enjoy the tremor of stones when placing them on a board.
We make every effort to ensure a perfect roundness and appropriate thickness so that it will fit the player's fingers.
In order to minimize the percentage of broken or chipped stones, we finish the Mimi (rim) at approx. 1mm of thickness.

Presence of Scratches
If a Go stone presents scratches, holes, or cracks on its surface, it is not beautiful at all and players feel uncomfortable to play with it. To avoid such a situation, we carefully check the presence of scratch stone by stone.
Today, we also use cutting-edge machinery in our screening process to detect scratches and chipping.  In our final inspection process, however, our expert screeners check visually every stone for comparison against our venerable Master Stone.
Barrel Polishing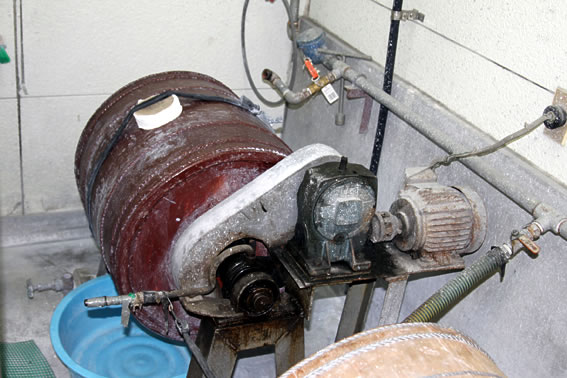 To make truly beautiful Go stones from natural clamshells, our mission is to ensure a smooth texture and a shine of the highest quality in perfect condition. We are able to achieve this thanks to our original process called "barrel polishing".
In this special process, various factors may affect the final state of Go stones, such as dissolution speed of abrading agent and how Go stones polished each other inside the barrel. Weather conditions, subtle changes in water temperature, or the number of Go stones loaded into the barrel, are all important factors.  In order to guarantee continuously the same level of quality, each day we must determine the best operating conditions.
The barrel polishing process itself is done automatically. However, all settings and operating conditions are determined by our skilled workers. They set the most appropriate conditions according to the texture, appearance and sound of the clamshell Go stones that are being loaded. Even when small modifications are required, our skillful experts can handle every different adjustment precisely and quickly. Since the beginning, we have always made continuous efforts to produce "Clamshell Go stones of the highest quality". Our efforts will never end.
The craftsmanship of our expert staff as well as our continuous efforts have contributed to produce Go stones with a perfect texture, shine, and finish of the highest quality. This is how our products are put on the market all over the world.