We use mainly Mulberry, zelkova, Chinese quince and cherry tree for the materials of our Go bowls. Each Go bowl has different colors, shining and grain patterns. The cutting direction and method of natural wood help create an unique atmosphere for each item.
Shima-kuwa (Island Mulberry) Go Bowl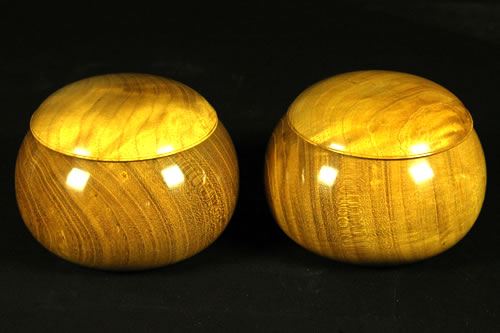 Shima-kuwa is used for Go bowls of the highest quality.
Many people are attracted to the combination of its deep color and golden Moku figure.
Shima-kuwa means literally "island mulberry". It is a very rare and special tree grown only in Mikura-jima Island in Japan. This Go bowl has a golden shining color. The tree is almost depleted and will be extremely hard to acquire in the near future because most island mulberry trees were killed by volcanic gas coming from neighboring Miyake-jima Island where a large volcanic explosion took place. Because of this, Shima-kuwa Go Bowls will become rarer and even more valuable in the future.
Hon-kuwa (Mulberry) Go Bowl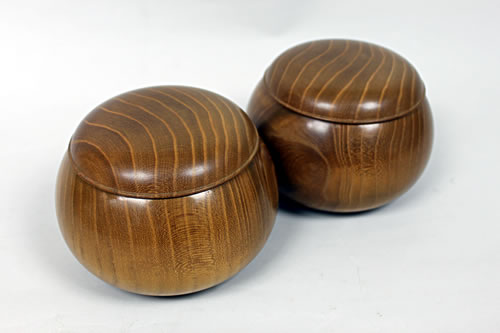 Feature
This wood has adequate hardness. Our polishing process produces golden color on the surface of the Go bowl.
Comment
Hon-kuwa is used for some of the highest quality Go bowls. Its shining golden color fascinates Go lovers. Most Go players wish to play with this high quality Go bowl.
Kuro-kaki (Black persimmon) Go Bowl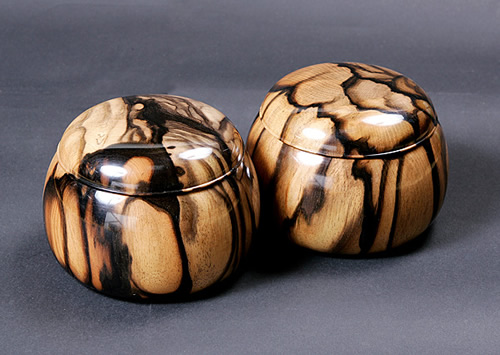 Feature
Just a low quantity of persimmon wood wears these unique black designs. Not only this wood is extremely rare, but it is also very hard to make a complete Go bowl with it as it often breaks during  the drying process.
Comment
Persimmon wood with black stripe designs is called Kuro-kaki (black persimmon). This wood is very hard and its surface texture is amazingly smooth. Because of its hardness, it is extremely difficult to process this wood to make a Go bowl. Kuro-kaki is often used for Shogi piece stand and box, tea utensils, Japanese traditional furniture, and decorative wooden crafts in Japanese traditional house or architecture.  Kuro-kaki is truly rare wood so its rarity is highly evaluated.
Yaku-sugi (Yaku cedar) Go Bowl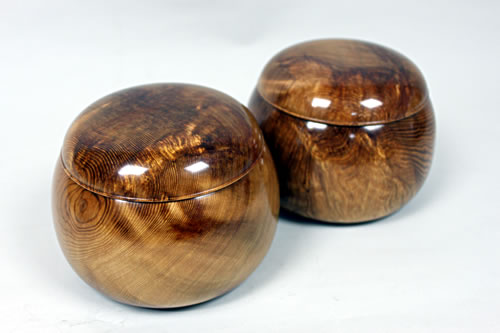 Feature
Although cedar wood is not usually used for Go bowls, Yaku-sugi cedar wood has beautiful, close and elaborate grain patterns that make these Go bowls more valuable year by year.
Comment
Yaku-sugi Go bowls can be called the "Gift from the World Heritage Site" because Yakushima Island where these trees grow has been designated as UNESCO's Natural World Heritage. Different from regular cedar wood, Yaku-sugi cedar wood has very close grain pattern and very hard Moku figures. Because of this, it is used in a wide variety of crafts as the highest quality wood material. Because special cedar trees are almost depleted, the value of these Go bowls will increase in the future.
Keyaki (zelkova) Go Bowl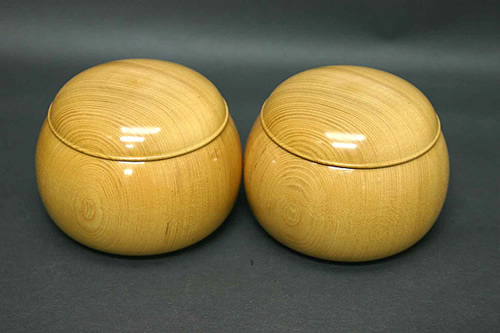 Feature
Grain patterns are rather wider and not uniform. This wood has a strong fragrance.
Comment
Light-colored zelkova Go bowls perfectly match the colors of any Go board, producing a premium feeling.
Karin (Chinese quince) Go Bowl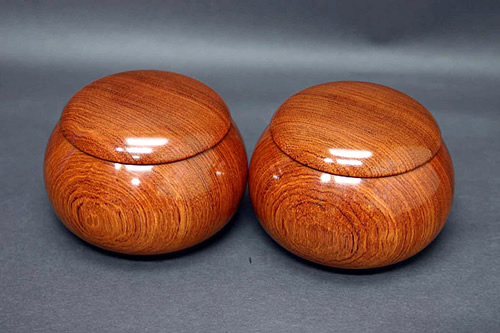 Feature
The wood is very hard. It is difficult to acquire thick and high quality quince wood. Because of this, the wood is often used to make high-end decorations or ornaments.
Comment
Karin Go bowls have vivid strong colors and clear grain patterns.
Sakura (Cherry wood) Go Bowl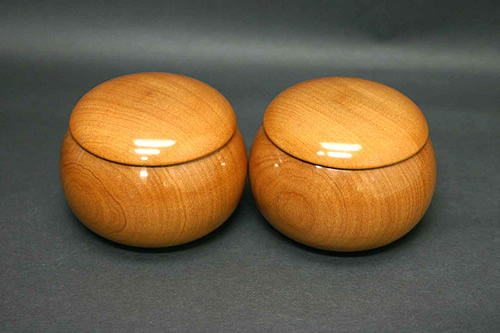 Feature
Cherry wood has very close grain patterns and a shining surface. It is easy to process and will remain stable for a long period of time.
Comment
You will never tire of using these standard Go bowls. Their mute-colored surface generates high-end feelings.
Kusu (Camphor) Go Bowl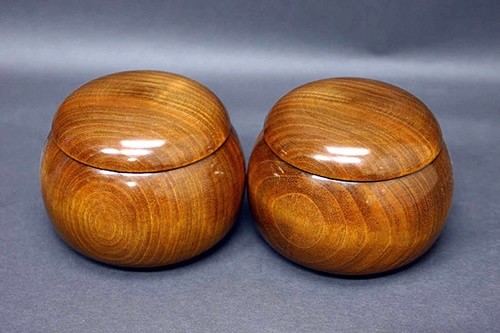 Feature
The grain patterns are relatively wide and uneven. This wood has a strong fragrance.
Comment
Kusu Go bowls have an affordable price. Their deep shining color generates premium feelings.
Kuri (Chestnut wood) Go Bowl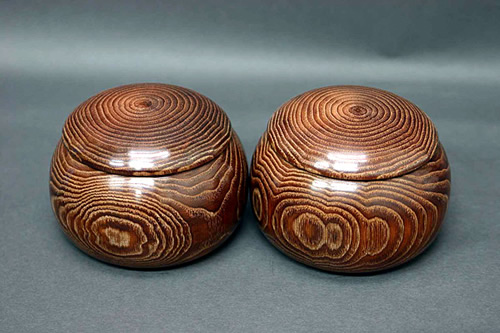 Feature
Chestnut tree grows so fast that many of them have wider and uneven grain patterns. Because of the features of this wood, knot and scratch sometimes occur and are visible on the surface.
Comment
This is the most affordable Go bowl but we guarantee the high quality of the material. Please understand that these bowls may have visible knots, chips or scratches.
Kuroki Goishiten Online Shop